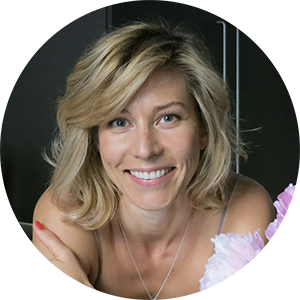 Hello and Welcome!
Allow me to introduce myself to you.
I am a professional Ayurveda therapist and coach, a vocation I grew into following my calling after many years devoted to building a successful career in corporate world of multinational companies, only to realise at the pick of my career that I was possibly climbing the 'wrong ladder'.
And so in desperation I watched my world, the one I so carefully constructed for years, falling apart. Out of that fall, through many difficulties, uncertainties, unknowns, I have been slowly re-creating a whole new fulfilling world, dedicated to serving people who desire to live their lives to the fullest, with peace, happiness and wellbeing – physical, mental, emotional and spiritual.
If you are tired of living a life that is not fulfilling you, often feeling tired, stressed, anxious and disappointed, and are looking to transform your existence into joyful, happy, meaningful presence in this world, I can probably help you. I am creating my dream and I know you can do it too!
Here's my story and how I became an Ayurveda therapist and a coach:
I was born and raised in Moscow, …… Leggi di più
Russia, at the time it was still governed by a communist party. As such I grew up in a closed-bordered country with a strong propaganda of the western world being pure 'evil' and the communist world being a 'paradise'. Thanks to my open-minded parents I felt there is more to the story than what I am being told, and hence I decided that I want to see that world for myself. At the age of 17 there finally came a moment when I was allowed to leave Russia to participate in an international tennis tournament in Germany. That was the moment of revelation: I had a glimpse of the 'forbidden west' and what I saw didn't look so bad to me!
My life has changed in that moment. Strong desire to explore the forbidden world was pushing me out of my comfort zone, and at the age of 20 I left everything behind and with $100 in my pocket I went to US to study at the university and play tennis. The universe gave me a helping hand and due to my achievements in professional tennis (at the time I was a top 5 ranked player in Russia) I was offered a full scholarship. I jumped on it.
Since then I have been on a constant journey of personal growth and it was not an easy ride. Life pushed me to continuously face my insecurities, fall with my face into the mud over and over again yet helping me to raise each time learning a new lesson. My journey in US involved working around the clock: playing and teaching tennis, getting my bachelors and MBA degrees while quickly climbing the corporate ladder in one of the world's best companies – Walt Disney. After 10 years, I was promoted to a Director of Finance role and offered a job assignment in Milan, Italy.
It was an exciting time: everything I dreamed of was coming to life and I was expecting myself to feel happy. In fact, in everyone's opinion I was a fortunate young woman with a promising career. Everything was going for me: successful career, money, status, steady relationship, friends and long awaited financial and physical freedom. I was travelling around the world in 1st class. The times of me leaving Russia with only $100 in my pocket just a few years back were a mere memory.
And yet…from inside, I wasn't happy. Something was missing. I felt that I was not in the right place, like the outfit I had on was not completely my style, size, colour. I was terrified at that thought and tried to push it away every time it was coming up. I desperately tried to silence it with distracting myself in wonderful vacations, new friendships, shopping, you name it. But it was not going away, in contrary it was getting louder and louder, until one day it got so loud that I finally listened.
And…I didn't like what I was hearing. The voice spoke to me about my weaknesses and insecurities, my selfish and limited view on life and, most painfully, the consequences should I continue to live the same way. I sat with myself for a while and tears were streaming down my face. It was pain and fear and desperation as I didn't know where to go from there. All I knew was that I had to make some changes quickly. And my intention was heard by the universe. This was 8 years ago.
And so my search for the real meaning of life went to a whole new level. These 8 years were not easy, on the contrary, it was a period of trials and mistakes, great realizations and deep profound love.
On the way, I discovered the transformative healing power of Ayurveda, and got professionally trained in it; I experienced the profound impact of coaching, thanks to the wonderful coaches I had along the way; met the love of my life, gave birth to a wonderful daughter and finally transformed my life's journey into the path of service to the world, committing myself to put all my knowledge, talents and energies to staying in the Light and Truth and helping others to find that deep sacred space within, their inner wisdom which will guide them to happiness.
Both Ayurveda and coaching have opened my eyes and heart and had a profound transformative impact in my life. I use the healing wisdom of Ayurveda and coaching in my practice.
If my story and approach inspires you I'd be honoured to work with you.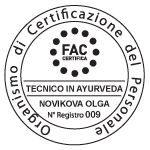 Certificazione Tecnico in Ayurveda